Welcome to Haus Asgard
Haus Asgard is the right place to stay in the most beautiful mountain village in the world.
One of the most loved homes on Airbnb based on ratings, reviews, and reliability.
Our home is in the favorite Zermatters full time resident sunny and quiet location of Mürini less than 200m away from one of the most iconic Zermatt restaurant, 5mn walk from ski In/Out. After fresh snow fall we sometime return home skiing through the fields.

Haus Asgard was built in 2015 by Zermatt prominent real estate builder for his family use with the best materials and finishing quality : wood and stone, hardwood floors, excellent insulation, geothermal hot water and floor heating, ski room with heated individual lockers, bike room, fully equipped laundry room.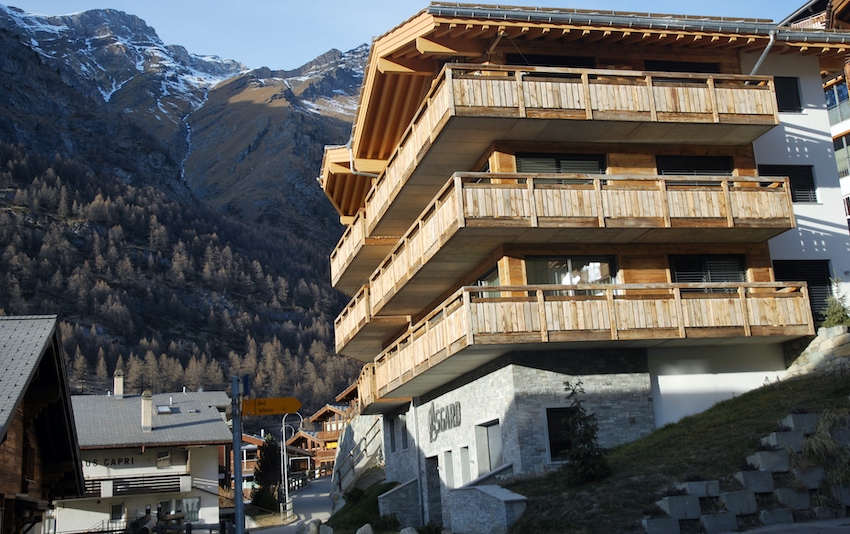 House and Rental rules
Odesa flat is the only rental in a house for primary residents in Zermatt who live and work here all year long, we are happy to welcome and share with you. We kindly request that you respect the House rules. They may be strict for someone who would come to party, in that case, do not choose this rental. If you come to enjoy sport, nature and the beauty of Swiss and Zermatt life and others respect, you'll be welcomed and delighted.
Occupation :
4 people maximum from 10pm to 9am
Name with Id Copy of each occupant must be provided before access
No one else not announced is allowed to enter Haus Asgard
6 maximum at any time
Animals : Not Allowed
Tobacco free House :
Smoking or Tobacco : Not Allowed
Minimum 15ft from any house entrance or window (neither inside, nor balcony, nor terrasse, nor door step, electronic cigarette or any other substance included)
Kids : Welcome but not

equipped

for young children (terrasse is directly in the mountain slope
without protection
and terrasse is accessible from 1 bedroom and the balcony)
Noise :
Quiet rule from 10 pm to 7 am,
no music outside at anytime
No loud music (good sound proofing,
neighbour
should not hear music when doors or window are closed)
Shoes :
No shoe inside in Switzerland
Ski, Mountain, Trail, Bike or any dirty boots/shoes should be left in the ski room
The locker has a heating system for 4 pairs
Other shoes
outside
at 2nd Floor door step
Crocs and new Slippers are provided for everyone for inside
Thanks to leave the Crocs at the end
Ski / Board : Must be left in the ski room in your locker
4 pairs of skis, boots and helmets fit in
If you have multiple boards and it doesn't fit, owner will provide you alternative
Bike : Bike room with plug at ground floor as well as space for bikes outside is available.
Water hose is available outside for bike cleaning
Garbage :
Zermatt "the right bin"
has a separate collection of glass, tin cans/aluminium, kitchen waste, paper/cardboard and garden waste with a collection point not far from Haus Asgard and a closed wooden box on the Balcony for daily
separation
The rest (Household waste) goes into specific Orange bags (Taxed) for compactors.2 x 35l bags per week are provided, it should be more than enough for normal life of 4 people using the waste management rules. More will be provided Free of Charge if needed
Washer & Dryer : are available in the House shared Laundry room with a chip
Owner will provide you products and chip on request (

Free

of

Charge

for

reasonable

use, Max 5 Fr. per load beyond)
Bedding : Beds are prepared and an additional full set for each bed is in the closet.
Possibility to wash or get more if needed
(mattress protectors and sheets, mattress protector must always be in place, additional duvets provided on request)
Towels : 24 towels (2 bath, 2 hair, 2 hand towel size per person) and 4 bathmat (2 per bathroom) are provided. Possibility to wash or get more if needed
Cleaning : We expect you to take your garbage out as well as the dishes washed or start the dish washer before to leave
Full flat cleaning is done between each rental for the Cleaning fee
Additional cleaning, change of bedding or towels during the stay can be arranged
Key : 4 ContactLess Keys in Credit Card format are provided
They open the Entrance door, the Ski Room Entrance door, your

ski-room

Locker and your Odesa Apartment
Any lost key is subject to a 200 Fr. flat fee to cover replacement and technician who must come to reprogram the lock (we apologize but our current House technology doesn't allow remote programming)
Haus Asgard common areas are under video surveillance